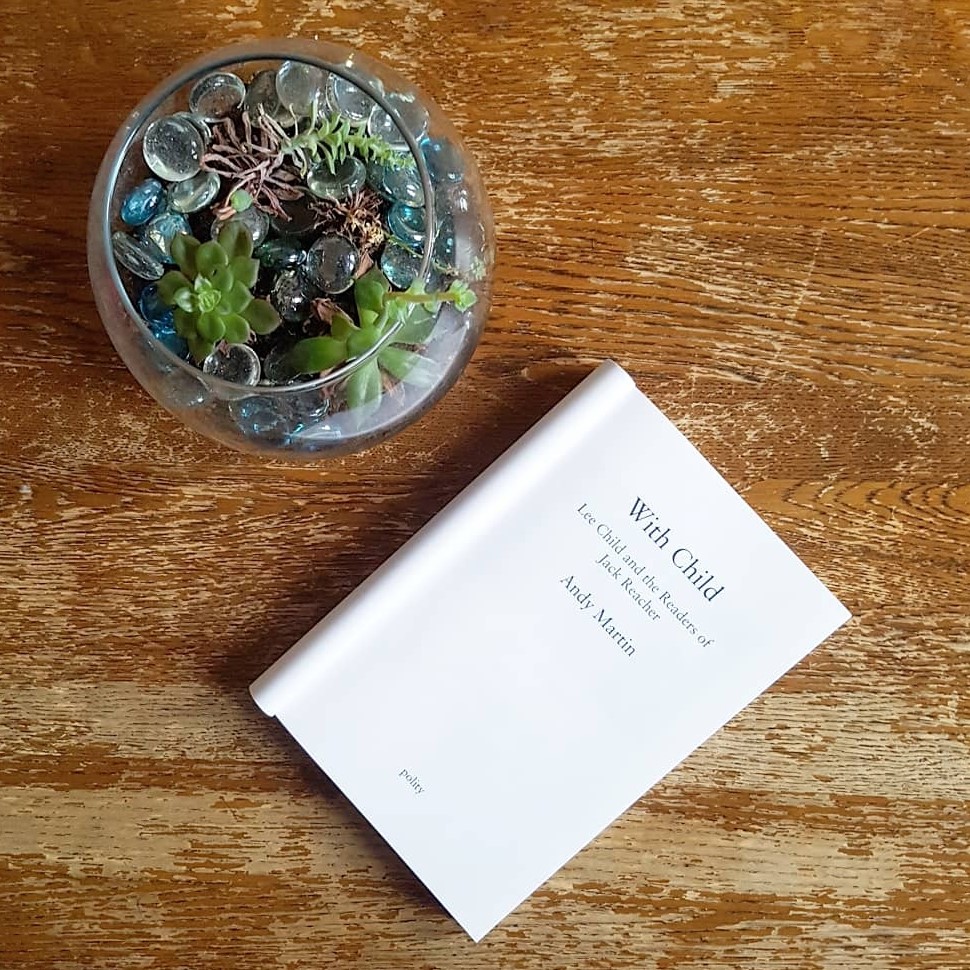 With Child by Andy Martin (Review)
Yesterday, about half an hour after I read the last line of With Child by Andy Martin–Lee Child saying, 'I'm with Kakfa – the meaning of life is that it ends.'–I sat down to write a piece about Wayne Holloway's debut novel, Bindlestiff. My mind still swirling with the world I had been immersed in over the past week with its discussions about crime and 'crime', about writing practices and the truth of fiction, about the death of the author, metaphorical or otherwise, dying (there was an almost morbid preoccupation with this, if I'm being honest)…and, well, reading all the books we possibly can.
Surprisingly, or, perhaps, due to the meaningful coincidences or synchronicity that are brought up more than once in With Child, I just happened to cross paths with these two very meta books that complement each other, more alike than would seem in what they were, at their very core, trying to convey about the complex, two-way street between authors and readers, and of the nature of storytelling. So much so that they will forever be bound together by the invisible links of timing and fate in the life of this reader.
Lee Child, in his foreword, to With Child, says how this book is the one that completes the circle started with Make Me and Reacher Said Nothing and gives us the stories of those who consume the narratives written through the process analysed in such great detail in that first companion book. This book is the "after". What happens after a book is published?
But, as this book points out, a bestseller equally needs its readers, the people buying the books and spreading the word; the people who are dependent on the writer for new stories just as the writer is dependent on their needs. Whether it's a woman from rural Texas who bids for her name to appear in the new Reacher book, to an ex-bodybuilder in the Montana wilderness who calls the colossus himself "lightweight", to a writer living in Cape Town who found the books at a time she needed to read as much as breathe to stay alive after the death of her beloved husband, to an NYC intellectual convincing herself that she was hate-reading the series because she couldn't stop.
It also includes being on the road as Never Go Back is filmed in New Orleans, travelling for literary conferences to Cambridge and Stockholm, to gun-shows in Las Vegas and book tours at various chain and independent bookstores across the United States, as well as peeks into the writing of Night School, the book that succeeded Make Me. And of course, there are plenty of fascinating discussions along the way.
I was particularly struck by the mention of Georges Perec, his Attempt at an Exhaustive Description of a Place in Paris, and how his fixation with the "infra-ordinary" is reflected in Reacher's personality, this paradox of a contemplative guy who gets coerced into action, rather than an outright action hero as his considerable bulk immediately suggests, written by an author who himself gets excited at the minute details often overlooked by others–the commas, the hyphens, the short, punchy sentences.
Reacher Said Nothing was a more structured book because of its purpose, its focus, while With Child can afford to go off on tangents, to mix chapters containing just dialogue to a list of attendees at one of his signing events, to delve into discussions about philosophy and politics and the psychosocial acceleration theory. But there is still the same sense of sitting in on a fascinating, intelligent, insightful ongoing conversation with friends that you never want to end but know must.
Luckily for me, Blue Moon, Reacher number 24, is out soon. And after that, well, I can just retrace my steps back all the way to Killing Floor and start my close reading of a series I can now appreciate at a level finer and deeper than I would have thought possible at the age of fifteen.