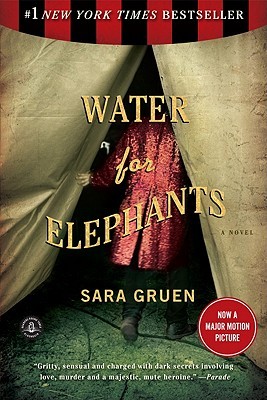 Water for Elephants by Sara Gruen (Book review)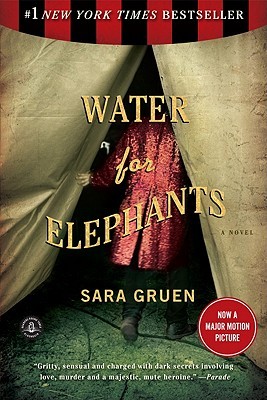 I'd bought Water for Elephants over a year ago but with the ongoing Masters the time to read it finally came just over a month ago. This isn't a book I'm going to be raving about in terms of the wait having been worth it, and yet it is one I certainly enjoyed.
It is a tale told in flashback. Our narrator, Jacob Jankowski is in an old age home reminiscing about the time he ran away to join a circus. The 23 year old Polish American had left his veterinarian studies right before graduation after the death of his parents in a car accident. He had jumped abroad a train carrying the Benzini Brothers Most Spectacular Show on Earth, in turn becoming a part of their troupe as the animal doctor. There he had fallen for the much-married Marlena, a beautiful animal trainer and performer, and the star-crossed lovers' nature of their budding connection forms one of the main narrative threads. A thread where the antagonism is provided by Marlena's bully of a husband, August Rosenbluth, who is also the head animal trainer. He is a deliciously dangerous character who is alternatingly charming and viciously abusive to everyone working under him, including the animals.
This is where the character of Uncle Al, the brutal circus owner, seems somewhat like a repetitive overlap without offering enough unique inputs to warrant his separate existence. There are many instances where you feel that perhaps combining his traits with August's into one character would have sufficed … worked better for the story even. (I havent yet seen the film version of the book, but have read that they have done exactly that by making August both the head trainer and circus owner)
There are however plenty of colourful and vivid characters that work wonderfully to create a very realistic and three-dimensional version of circus life back in the day so that we get instantly pulled into the world of the narrative. Some of my favourites – Camel who helps Jacob tremendously when he first arrives, the initially aggressive and grumpy dwarf Walter (aka Kinko) and his beloved dog Queenie who shares a carriage with Jacob, and the motley crew of characters at the circus including Wade, Earl, Blackie, Charlie etc.
Gruen manages to create a gorgeous rendering of life with a travelling circus – the highs, the lows, the magic and the utter madness. It feels very authentic because of the evidently rigorous research, whether it's the unflinching cruel and torturous animal treatment without a semblence of welfare or the brutality of redlighting circus workers and having them thrown off the moving circus train in the middle of the night to avoid paying them or the hyper infectious but equally tense atmosphere on opening day.
As a narrator, Jacob is very likeable, making it very easy to get involved in his life and story. More importantly, this involvement means we care deeply about his plight and root for a happy ending. Obviously this means that we see Marlena only as he sees her and since he falls for her the first time he sees her, it does seem hard for him to be able to separate his emotions. Yet, we do get to see different shades of her character so that she feels like a real person and not just an object of Jacob's affection. One thing that disappointed me was the wasted potential in the 'against all odds' nature of their relationship. It starts off promisingly but falls just short of being one epic.
In terms of the writing style, Gruen keeps it simple and lets the characters and the story move the narrative along. The detail is painstakingly minute to create a wonderful atmosphere without being detrimental to the pace. However, there is a tendency (especially towards the end) of making things a tad bit too melodramatic in an already dramatic setting. There were also a fair few bits I thought could have been edited better if not cut out altogether. The prologue was very unnecessary and many of the bits in the old age home seem like fillers, with the memories of Jacob's circus adventures appearing far more real. Every time we are back to the present, there is a certain sense of impatience at wanting to go back to the Benzini Brothers Most Spectacular Show on Earth. Those bits are what makes the story one that we want to keep on reading.
The twist at the end is fairly unexpected and though the ending is not, it is still satisfyingly bitter-sweet. Sara Gruen shows an obvious flair for writing about animals that endear us to them as if they were human characters. This adds a wonderfully enjoyable dimension to the narrative with Rosie the elephant one of its real stars. We feel every tiny bit of her circus ordeal, the good and the bad, we cringe and ache for her pain but cheer for her triumphs, however small and insignificant. Jacob's relationship with her is one to cherish, beautifully and sensitively written. I havent read many books that have made me care so much about someone who doesnt utter one coherent word throughout the story. That's what makes this one even more special. Next stop, the movie.