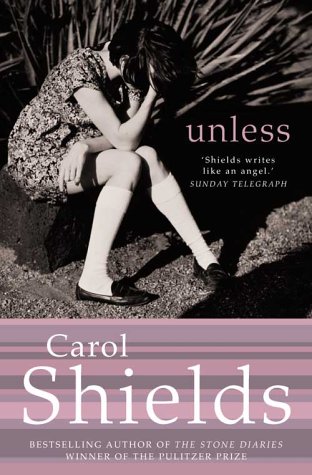 "The conjunction and (sometimes) adverb 'unless' with its elegiac undertones is a term used in logic, a word breathed by the hopeful or by writers of fiction wanting to prise open the crusted world and reveal another plane of being, which is similar in its geographical particulars and peopled by those who resemble ourselves." (Unless, Carol Shields)
In this vein, Carol Shields names all the chapters in Unless with different prepositions and conjunctions, as if they are to provide at least an illusory coherence to events that are otherwise disparate and fragmented, just like the lives of the characters that inhabit the world of the book. It was one I'd picked up on a whim at a book sale back in 2013 on the basis of an intriguing blurb. When I say intriguing, I don't mean in the way one needs to know the killer in a crime novel, but at a more thematic level. The narrator, a middle-aged female writer of light fiction, has three daughters, and the eldest suddenly gives up university to go sit on a street corner with a begging bowl and sign simply saying "goodness". What follows is the narrator's attempt to understand the decision and find her own definitions of life, goodness and hope within her own now-fractured reality. It definitely piqued my interest, and so it joined my never-ending to-read pile.
But for some reason, I never picked it up until one quiet Sunday afternoon deep into 2016; something about the book's inherent quietness calling out to my own on that day perhaps? And it turned out to be exactly what I needed to catapult myself out of the mini reading slump I was then staring down. It's funny how often our gut (or subconscious, call it whatever you will) will pick out something we may not even know we wanted or needed, until it smacks us on the nose, leaving us incredulous at having been so hopelessly unaware.
The opening line couldn't be more honest or matter-of-fact – "It happens that I am going through a period of great unhappiness and loss just now" – but it belies the depth of emotion lurking under the surface, of anger and sorrow and despair and helplessness that will sear us despite the distance the narrator maintains from it in order to be able to logically and rationally analyse it. Reta Winters has a normal middle-class family with her doctor husband, Tom (a mild-mannered man with a near-obsession of trilobites) and their three daughters, Norah, Natalie and Christine in Orangetown, Ontario. Norah, the eldest, a bright, intelligent university student with a lovely boyfriend and a whole life of possibility ahead of her, takes the drastic decision to drop out and sit on a street corner, refusing any intervention by her concerned and caring family. The remaining members of the family all try to deal with the fallout of this in their own manner, clinging to each other for support, but not knowing how to comfort or be comforted.
It's the catalyst for Reta's own burgeoning awareness and growth, from a woman who has always put her family first, a good wife and mother, to someone who more actively questions her position as a woman and a woman writer at that in a male-dominated society, who isn't afraid to get angry and show this anger and indignation in the face of injustice. Yet, the inherent contradiction in her personality means it can be quite frustrating for the reader, despite her good intentions. Her optimistic, carefully-constructed reality may have been shattered for good, forcing her to question and reassess everything she thinks she's ever known or thought of, but even then the last thing she wants is "to be possessed by a sense of injury so exquisitely refined that I register outrage on a daily basis".
This is a slow book to get into, purely because of the ruminative style it is written in, but it was a conversational format that increasingly grew on me. The main mystery was of course the reason for Norah's detachment from life, but the rest was very much a "slice of life" which warranted reading small portions so that one could chew on the content and look forward to the next without any sort of urgency. We have letters that Reta writes to various men in prominent positions but never sends, a group of friends who meet every Tuesday morning at the Orange Blossom Tea Room, her translation work for Dr. Danielle Westerman (Reta's mother is from Quebec) – and the experiences from that, as well as from her work on her own 2nd novel seep into her musings and mediations on different things; deeper connections to her larger world stemming from her personal and work life.
"On days when I don't know which foot to put in front of the other, I can type my way toward becoming a conscious being."
Or this rumination on the advantage of knowing more than one language (something I'd never thought of but immediately realised I'd always felt rather than known) –
"Every object, every action had an echo, an explanation. Meaning and two feet, two dependable etymological stems."
The author takes us on a journey through Reta's inner mind where she thinks and discards and introspects and rationalises without a filter for the benefit of the reader; an endearing confiding familiarity. She is by turns unsure, confident, satisfied, unhappy, joyous, lonely, irritating, meek, angry, and we are the beneficiaries of each minor shift in her feelings and her mind, and her growth. As contradictory as her personality is, we empathise and relate to her when she is trying to understand the situation with Norah at a level of personal comprehension; maybe a small part of us hoping that she might be able to find answers where we have failed in our lives, that there's a possibility of the same for us – "(There had to be) some perfectly logical explanation if I could just think my way through it." – but we are soon resigned to her awareness that it might always remain elusive – "Aren't we all struggling to find our own version of a truth we might never fully know?" – and so we plod on, bravely, accepting that sometimes there isn't a sharp moment of epiphany nor the neat, tidy answers offered by other narratives.
That said, this is far from a sad, slow story, just one that should be savoured not gulped, and the writer ensures that our attention is "kept" with irony and dry humour, a good fluidity in pace and description (there are some lovely turns of phrase and visuals throughout – "…the air stretched out on every side like sheets of muslin"), demanding our mental attentiveness and participation. There is a clear, distinctive narrative voice. Opinionated but never condescending. But also very self-aware. For example, the revelation of what pushed Norah to embrace homelessness turns into a meta-discussion about how sometimes there are coincidences in real-life that translate poorly onto the page; "the artifice of coincidence" that many writers are accused of (this in a novel that uses such a coincidence; a fictional life discussing fictional tropes as if in non-fiction, making it a very self-aware one) – and we slowly, delightfully realise how all the seemingly disparate threads of thought and story are connected, how effortlessly the layers are laid then peeled back, how much depth there is in narrative and character.
Even though the denouement of Norah's situation seems hastily and conveniently wrapped up, we can perhaps forgive the author on the basis that it is Reta's growth and response that is far more important and interesting than the actual predicament. That even though Reta ends the story on the non-sentimental note of "It is after midnight, late in the month of March", Shields wanted more of "the gathering together of all the characters into a framed operatic circle of consolation and ecstasy, backlit with fiber-optic gold, just for a moment on the second-to-last page, just for an atomic particle of time".
I had no prior experience with the author (though now I want to read more of her work), and I found out only after finishing the book that Carol Shields is well-known for telling engaging stories about ordinary people, particularly women, in the vein of Alice Munro; showing us a different perspective on every-day, seemingly unexciting occurrences. Unless is insightful and evocative, even though I don't claim to have understood all its shades and moods during my first read – and definitely the sort of matured vintage that begs for a reread or four.
I look forward to future insights based on where I am in my own life and what I am doing. Right now it was exactly what I needed to get me thinking about the undertones I want in my own novel that I'm working on. And the musings helped me cement some of my thoughts about my current transitional period of sorts; admiring the beauty of seemingly inconsequential moments, "little chips of grammar" required to create our own narrative, the hope and inherent possibility or searing pain of an unless.
"Unless is the worry word of the English language. It flies like a moth around the ear, you hardly hear it and yet everything depends on its breathy presence. Unless – that's the little subjunctive mineral you carry along in your pocket crease. It's always there, or else not there."
(PS. This was incidentally the last book she wrote before succumbing to a long battle with breast cancer. There is always a twinge of sadness when I discover a modern-day author after their passing. This is however the first time I've read the last book of an author first. I wonder how that will affect my reading of her previous publications.)