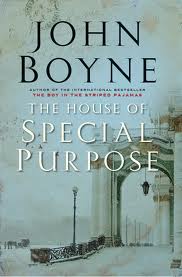 The House of Special Purpose – John Boyne
In 1916 Georgy Jachmenev, a 17 year old farmer's son impulsively throws himself in front of a bullet intended for the Tsar's Uncle. He is rewarded for his courage with the post of personal bodyguard to the 11 year old Tsarevich Alexei Romanov. Thus begins a life he never dreamed of as he first hand witnesses the uprising of the Russian Revolution and ultimate massacre of the Romanovs at the hands of the Bolsheviks.
Now as an 80 year old in London, Georgy has retired from a position at the British Museum and is looking after his terminally ill wife, Zoya. As he looks back upon his life, we journey far from their apartment in Holborn to the opulence of St. Petersburg, to the lives and secrets of the Romanov family, to the twisted machinations of Father Gregory, otherwise known as Rasputin. Being somewhat familiar with the history of those times, I immediately knew the secret Georgy and Zoya are desperate about anyone finding out. But the praise has to go to John Boyne for making me want to read the book regardless and root for the impossible, for a happy ending. Though highly fantastical for a lot of it (someone more well-versed in me in history would be able to talk more about the lack of credibility in many of the instances in the book), a bit too sentimental and romanticised, this is still a very layered book about two flawed, haunted, very human characters whose love for each other sustains them through so much bloodshed, suffering, heartache and loss.
For me, the Russia of the early 20th century felt far more real than their life in London in the 1980s or even their life in Paris after escaping a Russia in revolution – but maybe this is because the writer has been so successful at portraying that time. Everyone knows that the Romanovs will be murdered in cold blood, that this end is inevitably what is coming. But what we don't anticipate is how much he makes us care about them by that time and how much harder it will be for us to read about. There is a particularly tender, lump-in-the-throat moment between Alexei and Georgy at the last time they see each other. Boyne is an absorbing storyteller who succeeds in grabbing your attention and keeping it, while also ensuring that you have enough time to empathise with his characters and feel their happiness and pain.