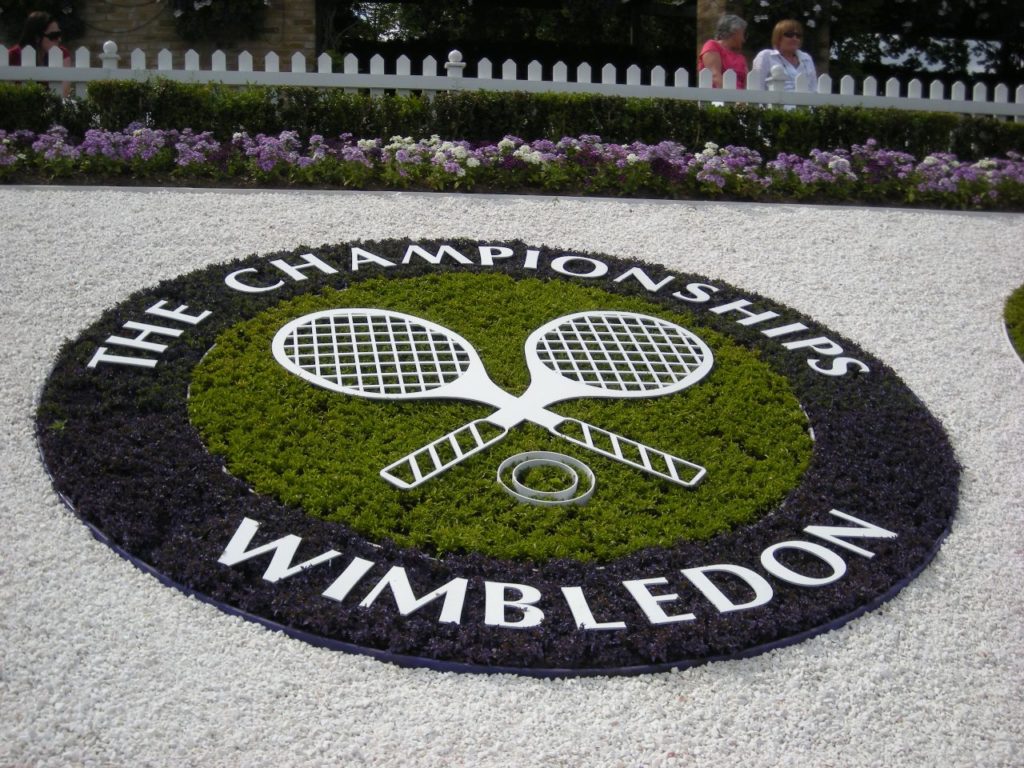 Originally published on As We Think Is a few years ago, but since modified and updated.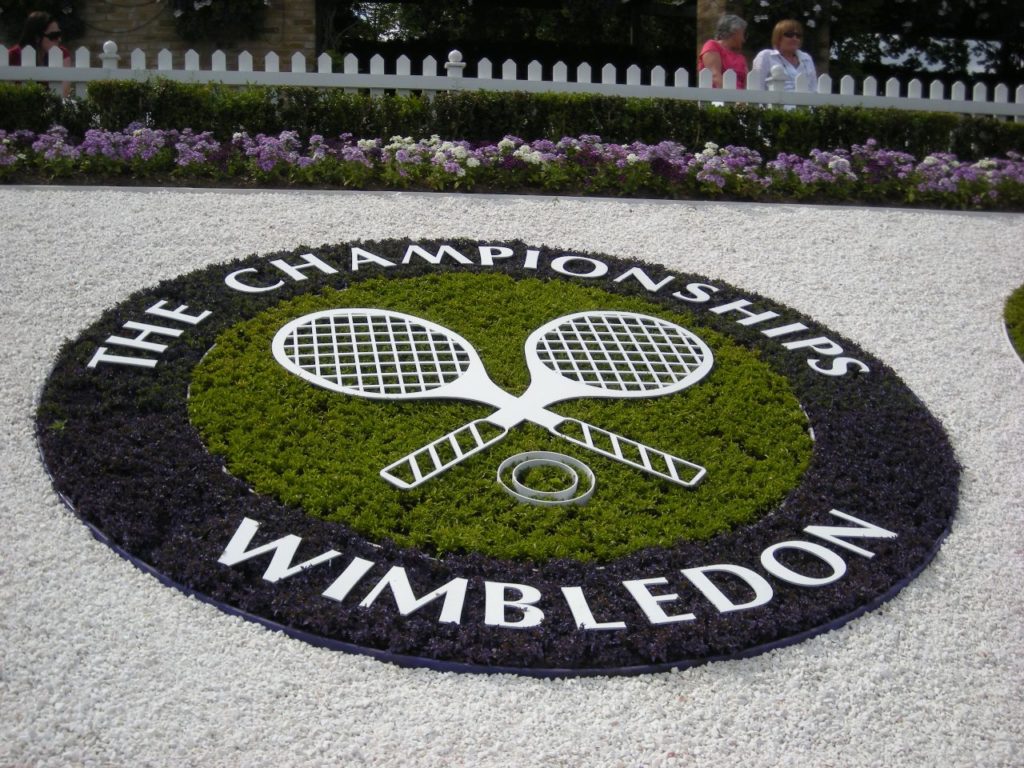 For Martina Navratilova, arguably the greatest women tennis player ever, Wimbledon is like coming home –
"Wimbledon is like a drug. Once you win it for the first time you feel you've just got to do it again and again and again…"
Even a person who knows nothing about the game will have, in all likelihood, caught some of the aura surrounding a tournament that is unanimously titled as the "Holy Grail" of all Grand Slams by the global tennis fraternity.
I was merely two or three years old when I first heard the words "Wimbledon" and "Centre Court". A close friend of my uncle's regularly expressed a wish that Mum send me for tennis coaching so that one day they could all watch me play on Centre Court in the final of Wimbledon. That dream never even had a chance to start, but in some corner of my young brain, consciously or sub-consciously, I stored away the importance attached to Wimbledon. My sister and I were initiated into the world of tennis at an earlier age than most. But it was not until later that I well and truly fell in love with Wimbledon, and realised that it was something special, without any prompting from anyone. It might have had its roots with my uncle once telling me about Wimbledon being the only Grand Slam telecast in India during the nascent years of television in the country.
My love and passion for the game has only increased, even though I have picked up a tennis racket all of two times in my life, and visiting Wimbledon with my sister in November 2010, was the fulfillment of half the dream I had when I first watched Sampras and Agassi play the final on Centre Court in 1999—a match which Sampras won 6-3, 6-4, 7-5. The summer of 2014 finally saw me at SW19, on Henman Hill (or Murray Mound now, if you will) and in some of the outer courts; an experience I want to repeat, maybe even with a chance to get into one of the bigger courts to see a favourite.
But why Wimbledon? With three other tournaments that complete the quartet of major Slams, why is this one, held in a district in the south-west of London, so revered? Why is winning this particular tournament considered the ultimate honour?
Whether it's the rich culture, history and strong sense of tradition, the exorbitantly priced strawberries and cream, served with a generous side helping of cold and sparkling Pimms, the all-white dressing code, the elegance and very understated nature that emanates from every aspect of the tournament, including the audiences, Wimbledon is undoubtedly very special…more than all the others put together. 2016 is the tournament's 139th year—making it the world's oldest tennis tournament. It is also the only Major still to be played on grass, the sport's original surface, which showcases a strong upholding of tradition at the All England Club, where the tournament has been played since its inception in 1877.
However, it is rather telling that in an age which is increasingly image and appearance conscious, along with a stress on colour and "being noticed," donning an all-white kit is so refreshing, and a source of great pride. There is something very transparent and pure in this gesture which speaks of a more evolved level of understanding about what was once considered to be strict.
This transparency is also reflected in the tournament's noticeable absence of sponsor advertising, in an increasingly commercial, materialistic and capitalist world. But at the same time, Wimbledon also represents long-standing associations, and a legacy of loyalty, with Slazenger and Rolex being prime examples. Slazenger became a Wimbledon sponsor in 1902, and they are the longest running sponsors in the world. Rolex began their Wimbledon association much later, in 1978, but as the "Official Timekeeper" of the Championships, it is a privileged partnership between two entities driven by the same pursuit of excellence. Similarly, the recently renewed contract with the BBC, which will see the corporation broadcast the annual event until 2020 (radio, television and digital streaming), points to the preference for a stable, successful association that can reach the widest audience, rather than the largest possible cheque. In fact, the Wimbledon Championships also have the distinction of being the first British TV programme to be transmitted in colour by the BBC back in 1967.
These are all worthy associations that complement the high quality and standard of tennis that the All-England Club has always produced, even though the style of play has consistently undergone changes. Bill Tilden, who held the world number one spot for seven long years, was the first American to win the Gentlemen's Singles Final at Wimbledon. He was followed by Fred Perry, who was previously the last British player to win the Gentlemen's Wimbledon Championship in 1936. Perry won three consecutive Wimbledon Championships between 1934-1936 and was world number one for four years in a row. Like them, SW19 has a legacy of champions. From Tilden's single-handed dominance in the 1920s to recent years with Roger Federer's equalling of Bjorn Borg's record of 5 consecutive Wimbledon titles in 2009, his equalling of 7 Wimbledon titles with Pete Sampras in 2012, that epic 5 setter in 2008 when Nadal finally overcame Federer on grass, Andy Murray finally winning his maiden Wimbledon (the first Brit to do so since Fred Perry) and Novak Djokovic asserting his worthy dominance as the world number 1.
The start of the Open Era in 1968 started a new tradition. It was the perfect stage for Bjorn Rune Borg, easily one of the finest players of the game. Wimbledon has played a large part in his world number one ranking, as well as his haul of 11 career Grand Slam titles between 1974-1981. It was perhaps apt then that it was Wimbledon which gave rise to a new star capable of competing with the ice-cool Swede, in the form of a genius, John Patrick McEnroe. The two created history with the 1980 Wimbledon Gentlemen's Singles final where Bjorn Borg prevailed over the American—1-6, 7-5, 6-3, 6-7 (16-18), 8-6 despite losing an epic 22 minute tie-breaker which McEnroe won 18-16.
Wimbledon has had quite a few great finals—Goran Ivanisevic's five-set victory over Patrick Rafter in 2001, the 2008 final between Roger Federer and Rafael Nadal, where the Spaniard won 6-4, 6-4, 6-7 (5), 6-7 (8), 9-7, after 4 hours and 48-minute test, in what was the longest men's final in Wimbledon history, stand out in recent memory. But the Borg-McEnroe encounter has been lauded as the greatest…a meeting which in retrospect was the summit peak of the rapid global popularity of the sport of tennis.
However it was the arrival of a young 16 year old German in the mid-eighties that signalled the start of what is now popularly known as "power tennis". The youngster was Boris "Boom-Boom" Becker who went on to win the Wimbledon Gentlemen's Singles Championships on his debut, and won it two more times but appeared in as many as 7 finals on Centre Court. For him –
"Wimbledon is obviously the most important tournament of all of them and once you become champion your life changes for ever."
There is not much unwritten about the combined legends of Centre Court that are Pete Sampras and Roger Federer, but Wimbledon has also seen the likes of Rod Laver, Jimmy Connors and Andre Agassi, who have been champions in their own right, as well as more recent champions in Djokovic, Murray and Nadal.
So what it is that allows this tournament to maintain the same high standard of tennis and champions? Tradition can be a four letter word if not combined with the zeitgeist. And this is where Wimbledon has not only managed to retain its uniqueness, but also embrace the advantages offered by technology, whether it's the revolutionary introduction of Hawk-Eye (the unique ball-tracking technique that comes to the aid of the players and the linesmen and referees alike when it comes to controversial decisions), or the new state-of-the-art courts, or the 84 million pound retractable roof fitted over Centre Court in 2009 to counter-act rain delays, or the introduction of slower courts that ensure longer rallies, as well as the chance to apply the serve-and-volley game which is almost non-existent in other Slams. It speaks volumes about the oldest Major in the world, also being the pioneer of innovation in the arena of modern international tennis. Surrounded by 15,000 spectators, the hallowed green turf of Centre Court symbolises a lot more than just a court where the final of a tennis tournament takes place. Ask any professional tennis player and they will say that winning Wimbledon is more special than winning any other…that it is a dream that they have been cherishing from the time they picked up their first tennis racket.
It's a tournament that on one hand is steeped in history, and on the other, constantly creates new memories, and images that stay with you—the traditional Wimbledon colours of deep purple and bottle green, the drilled excellence of the ball-boys and the ball-girls, and the referees referring to the players as Mr. and Miss "So-and-so". This class and elegance that Wimbledon has always striven to achieve is reflected best in the Rolex adverts – Live for Greatness.
Roger Federer, one of the brand ambassadors for the company, has the last word on a tournament with which he started a love affair long before he stepped out on Centre Court.
"When I see the ivy on the walls, the green and purple colours…it's what it's all about and it still gives me such a buzz. It's a very special place to be and I have so many great memories."
Will 2016 herald a new champion? Or will the old guard still stand strong? Call me a hopeless romantic, but I haven't given up the hope that Roger Federer still has one slam left in him. And what better place to achieve 18 career slams than on the grass where he won his first?