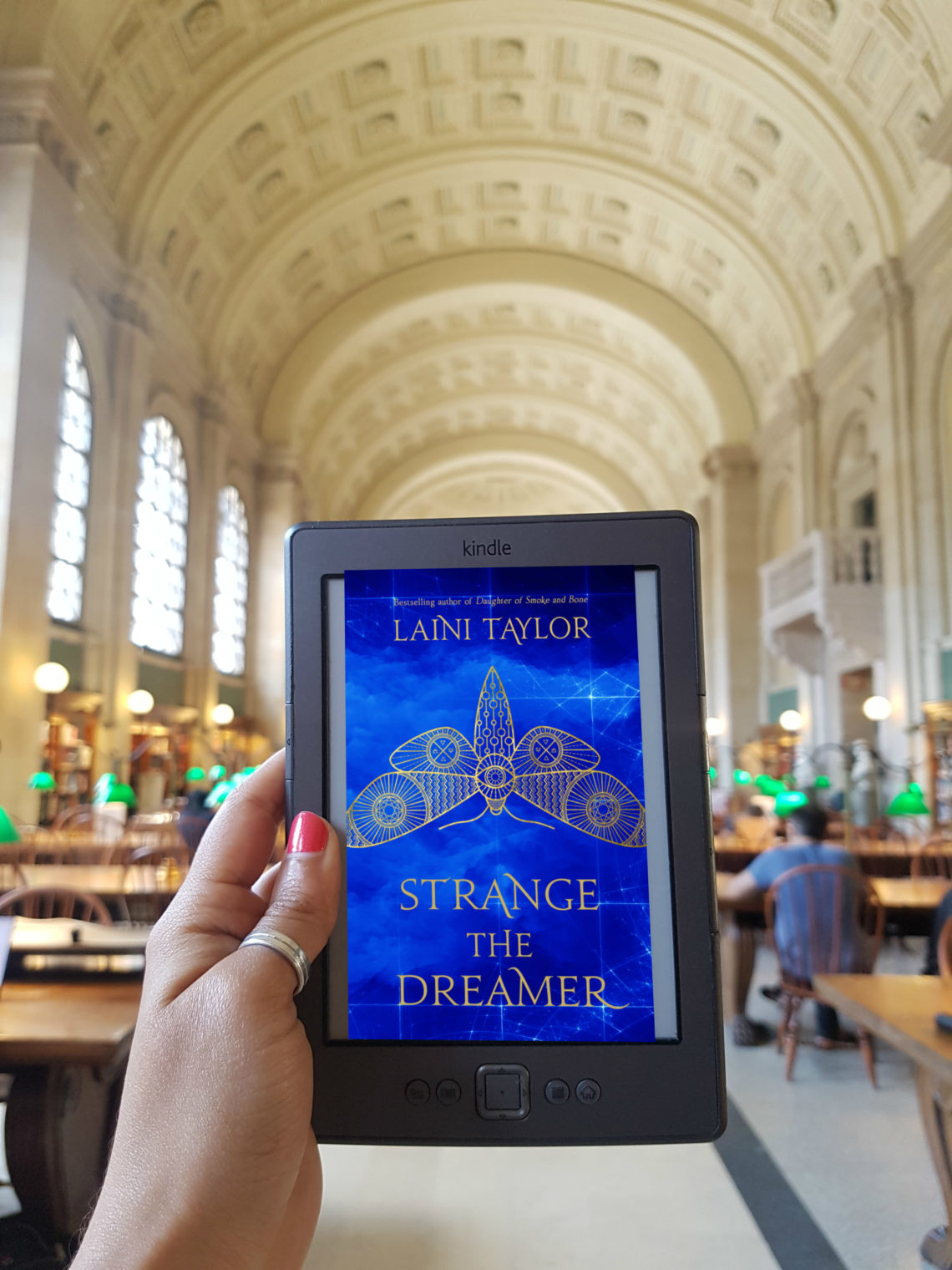 Strange the Dreamer by Laini Taylor (Review)
I have had Strange the Dreamer on my to-read list for the longest time. I mean, just look at that cover! It was definitely what initially caught my eye before I read the synopsis and was intrigued.
"You're a storyteller. Dream up something wild and improbable," she pleaded. "Something beautiful and full of monsters."
"Beautiful and full of monsters?"
"All the best stories are."
Strange is the last name of foundlings of unknown parentage in the city of Zosma. Lazlo Strange grew up in a monastery before finding an unexpected but delightful freedom from that life thanks to a deep love of books and the sharp eye of one of the senior librarians of the Great Library of Zosma. Adding to his love of stories in general is an obsession with the mystical Unseen City. Lazlo has stored up visuals and information from the stories of an old, almost senile monk, playing at being a Tizerkane, elite warriors, all the while a slow desire and dream takes shape of getting to experience this city in the future.
One day, he physically feels the name of the city erased from his head and replaced with Weep, its place in everyone's minds and memories replaced as well. Suddenly, it seems that Lazlo is the only one who remembers that the city existed, probably still does; the only one who cares about what happened to it. He continues to gather all the information he can, compiling journals. He is sure that what he has felt during the erasing is actual magic. But who could be powerful enough to erase an entire civilisation's name?
When Lazlo is 20, the chance suddenly manifests itself in the form of Eril-Fane, dubbed the Godslayer, and his army of the Tizerkane. They are the first people to come out of the Unseen City for more than 15 years and they require the help of the kingdom's best scientists, alchemists, philosophers, architects, scholars etc to solve the big (and secret) problem they have been facing. Lazlo knows this is a once-in-a-lifetime opportunity and blags his way onto the mission as Eril-Fane's assistant on the extent of his knowledge of their city and its language. He inadvertently becomes the resident storyteller over the course of the long and dangerous journey to Weep.
There are many mysteries and secrets yet unknown to Lazlo (including the blue goddess who starts inexplicably showing up in his dreams while in Weep) and the rest of the faranji, the foreigners. This trip will irretrievably change every single one, but none more so than Lazlo whose coming of age awaits. Before long, you are not only fully in his corner, but also actively rooting for him to succeed while still retaining his abilities to dream and hope and believe in a better world. It's refreshing to read about a guy who is genuinely nice and decent to begin with yet incredibly compelling as he grows through this adventure of a lifetime.
This is a little thin on plot and immediacy at times, until the very last part of the story, but it never drags. In fact, for being a slow, exploratory story of story, this is surprisingly gripping and fast. The world-building is detailed and vivid, the supporting cast of characters interesting in their own right, and the language, though at times repetitive, gorgeous and poetic at its best. It's even endearing when the narrative enters cliche territory.
Love, magic, mythology, gods, anger, pain, sacrifice, fear. I cannot wait for the second book in this duology, with so many answers yet to be revealed, so much backstory to learn, and a cast of characters who want to follow on the next stage of their unfinished journeys.
---
Check out @booksinboston for more reviews and book talk, thanks for stopping by! Let me know your thoughts in the comments 🙂