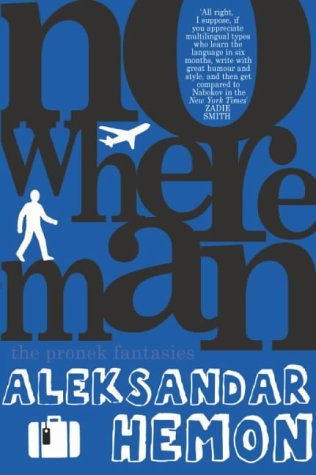 Nowhere Man – Aleksandar Hemon (A book review)
"Ordinary facts are arranged within time, strung along its length as on a thread. There they have their antecedents and their consequences, which crowd tightly together and press hard one upon the other without any pause. This has its importance for any narrative, of which continuity and successiveness are the soul. Yet what is to be done with events that have no place of their own in time; events that have occurred too late, after the whole of time has been distributed, divided and allotted; events that have been left in the cold, unregistered, hanging in the air, errant and homeless?" (Bruno Schulz, The Age of Genius)
This quote is before the opening line of the novel, and I absolutely loved it for its insight, its strong visuals and its relevance to anyone who's even felt slightly out of place. It was to be a strong precursor to one of the main themes of the story to come, of the main character and the ones at the periphery. Yet, at the time, I didn't know about Hemon's life (if I had I'd have picked up on some of the ways it found its way into the narrative through seemingly random details) or that Jozef Pronek, his protagonist, had been dubbed one of literature's "lost men", but I felt an immediate sense of "the outsider looking in".
Aleksandar Hemon was born in Sarajevo in 1964. His parents were of Ukrainian and Bosnian Serb heritage. In 1992, Hemon was granted a cultural visa to the USA as part of an exchange programme. On May 1, 1992, the day of his return, Sarajevo came under attack by the Yugoslav army, and he was granted asylum in the States. From speaking very basic English to becoming a successful English-language writer (he watched CNN at night and read American novels with the help of a dictionary), it's clearly been a hell of a journey.
I first heard of the author at Jaipur Literary Festival 2016 where he was a panellist for a session on The Global Novel along with Margaret Atwood, Colm Toibin, Sunjeev Suhota, David Grossman and Sulaiman Addonia. But I didn't immediately buy his work. That came a few months later when I stumbled across Nowhere Man at a new bookstore I was visiting for the first time. The blurb was intriguing and it was added to my never-ending and ever-expanding to-read list. But I never did more research on it or the writer before picking it up at the end of 2016. I was only aware that the protagonist of this book was a character from one of the short stories in his published collection. I later found out that The Question of Bruno (2000) was his debut work, and that the story in question was 'Blind Jozef Pronek & Dead Souls'. I had been going through a bit of a "reading slump" (for me, anyway) though I'd just finished and really enjoyed Neverwhere, so I don't know why my gut made me pick this up from my shelves. But I didn't regret it, despite some of my issues with the book.
It has 5 sections, another thing I wasn't aware of before I started reading it. In fact, I remained under the mistaken assumption that the first-person narrator was Pronek himself, until he comes across a man he recognises as Pronek at an English language academy in Chicago. They knew each other as children back in Sarajevo; years and miles separating this chance meeting and their original association. The mental recalibration required to process the previous pages in the light of his new information took a while, especially with regards to the narrator's personality and how I'd built up the character until then, but I finally settled in to learn more about Jozef Pronek, who was born "in the Sarajevo maternity hospital on September 10, 1967" and had a Beatles obsession to the point of playing in a cover band through his teenage years (hence the title Nowhere Man which adds to the essence of displacement that this narrative wants to convey). Josef's childhood, his teens, his college years, his work as a reviewer and his trip to the States are narrated by his Bosnian acquaintance, where he drops a clue to the content of the next section in Kiev, Ukraine, during few months of summer school (chronologically when he was in college) through the association of Bosnian Ukrainians.
The first narrator will remain unnamed, but the second is introduced as Viktor Plavchuk, Pronek's Ukrainian-American roommate during the summer of 1991 in Kiev. It took a while to adjust to this change, but credit to Hemon for writing in a distinct, different voice from the first section. Why this particular summer you may ask, but as the story unfolds it becomes clear that the political events of that Kiev summer (George Bush Sr's visit and the Soviet Union's collapse) will have repercussions not just in a global sense, but also affect the future trajectory of Jozef's life. As with section one, this too ends on a rather ominous note, one of many that continue to form a silent, if not, unavoidable background to this story of Jozef Pronek.
Section three is titled "Sarajevo, December 1995 and is Jozef's translation of a letter from an old friend. It is section four where we finally see his story through his own eyes, though the narrator is omniscient and disturbingly states that Pronek was "oblivious to me as a wall is oblivious to a shadow dancing on it." It has already been three years since his arrival in America, and we learn that the Bosnian, like Hemon, was visiting Chicago in 1992 when the Sarajevo siege displaced him from his home and country. Our man appears quiet, polite, a bit diffident even. When his then-employer, a private eye, asks him – "are you a Serb or a Muslim?" – he answers with "I am complicated". This could very well be a declaration for the novel itself which requires intense concentration to read and process, and even then leaves you with more questions than answers and a frustrating inability to change that.
There are two more sections to go. The next is continued by our omniscient narrator, two years from the private eye section, and navigates us through Jozef's job for Greenpeace (a door-to-door fundraiser), his relationship with colleague, the American Rachel (who calls herself EVOL, love in reverse) and his eventual outburst of all the anger he's ever felt or hid. The final is a coda about one Evgenij Pick in the first half of the 20th century (he's apparently an actor, spy and multiple turncoat), one garnering intense confusion (that hasn't been alleviated since), but also feelings of an unimaginable amount of alienation, which I'm guessing was the intention. Eventually, all the shifts and changes heighten the reader's sense of disorientation and dissociation, the feeling of reading about an "altered" reality). The novel itself attempts to document the fractured fragmented reality and understanding of a person through the eyes of others; fellow misfits "grasping nuggets of nothingness".
Though Hemon acknowledges, through the POV of Viktor, that,
"The hard part in writing a narrative of someone's life is choosing from the abundance of details and micro-events, all of them equally significant, or equally insignificant. If one elects to include only the important events…one denies the real substance of life: the ephemera, the nether-moments, much too small to be recorded…but you cannot simply list all the moments when the world tickles your senses, only to seep away between your fingers and eyelashes, leaving you alone to tell the story of your life to an audience interested only in the fireworks of universal experiences, the rollercoaster rides of sympathy and judgement."
This then is the story of one such "nowhere man" who is always but on the fringes; the small moments of his existence that may not be the happiest in tone, but strangely compelled me to keep reading (maybe not a "I need to know what happens", but a "it would be nice to know what happens" sentiment). We see Pronek's character slowly begin to form through these varied recollections from indeterminate points of view, through the first time we see him through "his" eyes, through the first sign of the fire burning under his skin (the section with the Chicago private-eye ends with him imagining destroying the Shoney's he sees being razed. Until it was a pile of rubble – "and then he would go on, until there was nothing left"), through the road-trips across America canvassing for Greenpeace, and the increasingly existential feel of a narrative (which after all has the sub-title of "The Pronek Fantasies") ("…the itchy feeling that his life was happening to someone else") right through the end of this section where the omniscient narrator almost comforts him with – "let us just remember how we got here. Let us just remember." There's a strong vein running through Nowhere Man of the importance of memory, the keeping alive of one's history and life, of remembrance of especially those "errant and homeless" events and people that seem to be left without a place in the world's narrative thread.
"Most of the things in this world would go on existing whether I lived or died. There was a hole in the world, and I fit right into it; if I perished, the hole would just close, like a scar healing."
"Your memories become fantasies if they are not shared, and your life in all its triviality becomes a legend."
"This moment…would not be remembered by anybody but him, and one day it would vanish from his memory, too."
Now, knowing what I do about Hemon's life, there are many layers not previously discernible, such as Pronek's rapidly bubbling frustration from having to operate in a foreign language which distances, estranges him even further from everyone in his new life in America. Yet, his remains one of the most unique voices I've ever read (Junot Diaz being another 2016 candidate). Despite the "downbeat" tone permeating the novel, the writing and expression was full of acutely sensory, detailed bursts of streams of consciousness, inanimate objects vibrating with energy, words pulsing with their own life, and tons of dry humour, especially in Pronek's Greenpeace section. There's no question that the writer has a unique way of looking at the mundane; illuminating observations about the everyday that cause us to look at things differently.
And even though, I remained emotionally detached, I was intrigued and wanted to know more. At the end I remained confused, but with glimpses of somewhat feeble understanding (what for example was the point of writing 30 odd pages about his Bosnian acquaintance before Pronek even comes into the narrative space, who was the omniscient narrator sometimes slipping into first person in the later sections and what the hell happened in the coda).
I'll be honest that this was a challenging read that largely unsettled me, pushed me far from my comfort zone. But would I recommend it? Without hesitation.