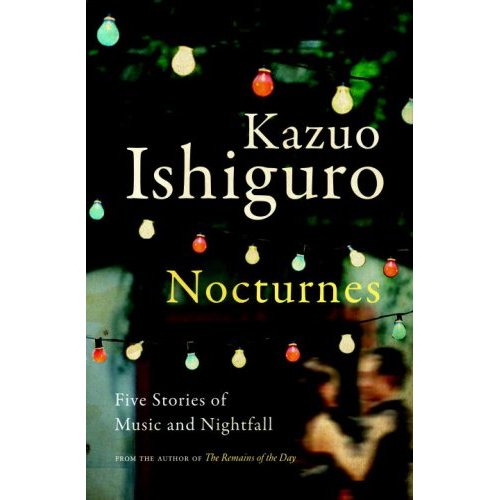 Nocturnes: Kazuo Ishiguro (Review)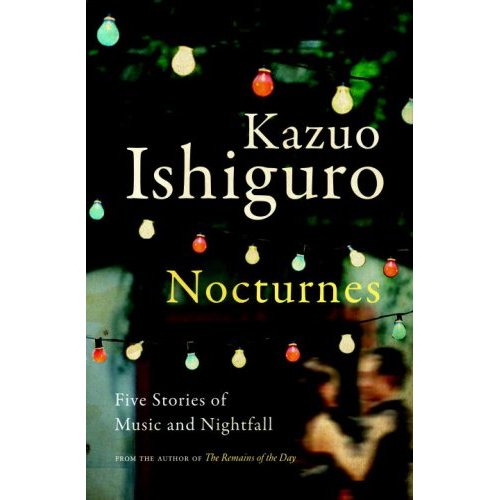 Ishiguro, K. (2009) Nocturnes. London: Faber and Faber.
Up until 3 years ago, I have to admit that I hadn't really heard of or read any of Ishiguro's work. And then suddenly, within the span of a month, I ending up buying Never Let Me Go (novel) and the then recently released short story collection, Nocturnes because I liked what I read in the blurbs and the parts I'd briefly browsed through.
I read the novel first and though it took me a few chapters to become really engrossed with the meticulously created world and its characters, I was hooked enough to keep on reading, curious to find out how he would chose to write the inevitable end. The narrative was melancholy, quirky, genuinely heart-breaking in parts and completely unlike what I'd expected. It is definitely one of the most depressing books I've ever read and yet there is a certain poetry to it which was what compelled me to finish it and kinda like it too. But that's not the reason for this post, Nocturnes is.
Short stories were not something I was exposed to much pre-University and it was for the best that I read Nocturnes a year and a half into my course, after developing a certain taste and knowledge that wasn't previously there. I've recently re-read the collection, comparing reactions and thoughts from my initial read. The fact that nothing much has changed surprises me. I have seen some things deeper than I did back in 2009 but my overall impression of the collection as well as the individual stories remains fairly similar.
The debut short story collection by the British-born Ishiguro explores 'ideas of love, music and the passage of time'. (Book blurb) All the stories have their vital moments during dusk and at night; perhaps the eternal struggle between the light and the dark symbolising some of the conflicts and regrets within his characters. There is a variety of locations (Venice's Piazza San Marco, Malvern Hills in the United Kingdom, London, an exclusive Hollywood hotel …) and a variety of characters. ('young dreamers, cafe musicians, faded stars – book blurb).
However, all of them have in something in common – we encounter each at a moment of reckoning in their lives. Whether it's ageing star, Tony Gardner coming to terms with a sad new phase in his life, or the (as yet) unsuccessful young musician spending the summer with his sister and her husband at their cafe in the Malvern Hills to find inspiration and direction, or even the talented yet 'ugly' saxophonist, Steve who undergoes plastic surgery to 'make him a star' and 'get him ready for the big stage'. All of these characters are a little lost, a little nostalgic, a little bitter, a little disillusioned by unfulfilled or unsuccessful dreams and potential, some far more than others. There are many missed chances, much lost love, a deep regret and a fair amount of struggle to 'keep alive a sense of life's romance, even as one gets older, relationships founder and youthful hopes recede.' (book blurb)
The Oxford Dictionary defines a nocturne as a "composition of a dreamy character, expressive of sentiment appropriate to evening or night". And in this sense, Ishiguro succeeds in creating a beautifully elegant and melancholic atmosphere throughout the collection. There are some insightful observations about music, musicians, the price and purpose of art today, and an interesting parallel narrative within each individual story which hints at hidden unease, anger and bitterness simmering below the surface, giving us only glimpses of it before becoming very still again.
I do have my favourites from the five, if asked to pick – Malvern Hills and then it's a toss between the opener (Crooner) or the finale (Cellists), both of which mirror each other and work decently well to serve the collection's cyclic nature. My least favourite was Come Rain or Come Shine, and the collection title Nocturne, (the biggest story out of the five) dragged on too much for my liking.
And yet, none of the stories really grabbed me or lingered on in my mind long after I'd read them. The characters, though detailed and well-sketched out, left me with an emotional lack. I am all for unlikeable qualities in characters, even central ones, but in these stories most dont seem to have any equally redeemable qualities that made me invest in them, made me want to root for them and find out how the stories ended. It was similar with the overall collection – Ishiguro's fine quality of writing and story-telling is clearly visible (though there were too many cliched phrases than I was used to in Never Let Me Go) and yet I waited and waited for something that ultimately never came. The flashes of disturbances hint at the secrets all these characters are hiding in the depths, but the writer never really makes full use of this potential and that's where there is a hollow emotionality in the final effect. Like Robert McFarlane wrote in The Sunday Times,
"Closing the book, it's hard to recall much more than an atmosphere or an air; a few bars of music, half-heard, technically accomplished, quickly forgotten."
But I'd definitely recommend that you give it a try and make up your own mind, whether you are a Kazuo Ishiguro fan or not. For those who have already read it, would love to hear your feedback in the comments below 🙂
PS: His Remains of the Day is on my list of books to read. Have heard wonderful things about it and the film. Looking forward to both!