Looking back: the Arsenal fan edition
Football is nothing without the raw passion and emotion, the personal connections and collective stories of fans around the world. And just as any other sport, it is nothing without the pure, redemptive moments that make you believe, hope and dream, and matter as much, if not more, than the trophies.
Right after my initiation into football at the 2002 World Cup, I was introduced to the world of club football in 2002/3. This was the time that football was slowly starting to gain a semblance of a foothold in India, a country that is still to a large extent defined by cricket. That season one of my friends, a die-hard United fan, tried his level best to get me to fall in love with the Red Devils. Sure, I enjoyed watching Giggs, Scholes, Becks, Nistelrooy win the title at the end of that season, but it was more my love for sport than anything else. My heart had already spontaneously pledged itself to the Gunners and their bespectacled manager on April 16, 2003, despite the 2-2 draw against Ferguson's lads. Even my friend (who still loves to label me a traitor) had to admit they were a joy to watch, a force to be reckoned with and it was this ruthlessly elegant play that got me hooked. So yes, the Invincibles season that followed did cement my love towards the club, but 17 years down the line, I'm still here and not going anywhere.
What does a North London team in the English Premier League and a 29-year-old girl from Mumbai, India have in common? To this day I do not possess a proper answer to the question of 'Why Arsenal?' It is one of those things that you can intensely feel but never fully explain. I've tried and tried. And tried some more. All the words that come out seem forced, the sentences too clichéd and something that anyone can write. None of them seem to do justice to my personal feelings about something that I grow more passionate about with every season.
It's not a matter of choice, becoming a supporter. Many people will call me crazy and dramatic, but most fans and supporters of teams will know just exactly what I mean when I say that it's the team that chooses you. People joke about fans 'having relationships' with their teams. The only difference is that with a team, you are risking your heart weekly, sometimes even twice a week when there is European football, and there is more of a chance that you'll get badly hurt, knowing all the while that it's a life-long bond, and hence the risk of a lifetime of potential pain, frustration and heart-break. You may be wondering why we put ourselves through it, day in and day out, even when there is little hope, and even when things look bleak. The life of a fan is never easy but there are moments that make it all worthwhile.
One of my major regrets has been that I was unable to see the Invincibles magic live or ever visit the sacred sanctum that was Highbury. I clearly remember watching the last ever game at that ground against Wigan in May 2006 – Henry scoring a hat-trick and kissing the hallowed turf, a sellout crowd, and Spurs losing to make sure that the Gunners left Highbury without losing their top-four dominance. But it always hurt that I would never be able to turn back the clock and witness the heroes who made me fall in love with Arsenal, with the game of football, were part of my formative years as a fan of the sport.
In September 2008, I moved to England for my studies, to the North-West where it was any team but Arsenal. Over four years there, I became a Red-Level member and went to games when I could. My sister, a fellow Gooner joined me two years later, and we have some wonderful electric memories of game days, of the feeling of shared passion among a large crowd, the kindness of total strangers and the magic of watching your team live.
But none of that beats February 4, 2012. The moment we found out Henry was back for a loan we knew we needed to get to a match whatever it took. We had never imagined it would be possible but there it was and we got tickets to the Emirates for the Blackburn Rovers game, still basking in the glory of that perfect re-debut vs Leeds.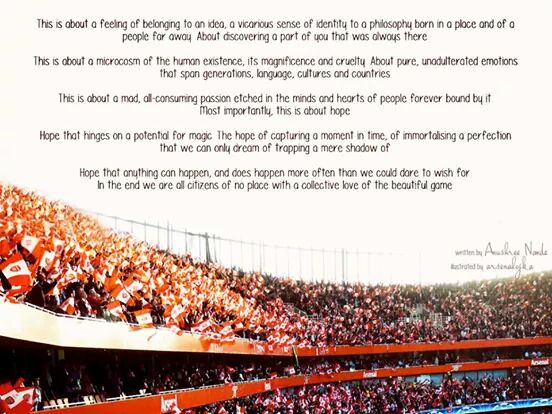 I made the journey down to my sister's in Birmingham the day before and it was still pitch-black and freezing when we took the train down to London. Henry was always going to be on the bench, but we hoped that he would get a chance to come on. Simply wanting a glimpse of the man playing just so we could say we'd seen him live, never mind that it wasn't when he was at the peak of his deadly form. But we shouldn't have worried; Titi's always going to be a class act, a true legend of the club.
There was a moment well into the second half when we heard a roar as Henry starting warming up on the touchline. Surely he'd come on even with the win already in the bag? Especially so? There is nobody like him; that ease of movement, that fleet-footed grace and elegance, the intense burst of speed. A sheer joy to watch. It was to be all that and more as he made his way onto that pitch to a standing ovation. It was too much to hope that he would score, and my sister and I were content to just watch him and the ball for the remainder of the game. It was only with the final kick of the game that we realised it was meant to be. A fluid exchange between Van Persie and Henry saw the Frenchman slot it home. 7-1.
That it was finally ruled to have been an own goal mattered little to two Indian Gooner Girls who had started to dream of a moment like this through countless sleepless nights staying up and watching the live telecasts, scrounging internet streams when the sports channels chose to show cricket on game-day, enduring endless questions about why they would even care what happened to a team that was thousands of miles away in another country, standing up to the plastic United fans who suggested shifting loyalties. With all the snow, we didn't get back to Birmingham until it was dark; numb and tired from the cold and excitement, but with a smile that took days to go away. It is far from the most defining Arsenal goal, but for us it is always the memory of one special redemptive moment when everything was perfect.