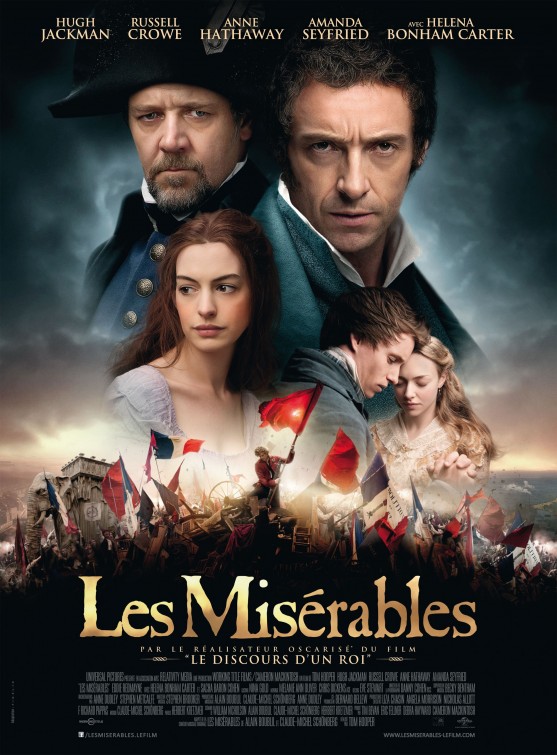 Les Miserables (Review) 2012
A few confessions before I begin this review:
A)    I'm not even midway through the original book yet, having only read the abridged version back in school. But I do know the characters and the general plot and story points.
B)    I have not seen the stage version of Les Miserables but am a fan of musicals having seen The Sound of Music, The Lion King and The Phantom of the Opera at West End. That said, I'm not even remotely an expert in the field.
C)    If you are not partial towards musicals or musical theatre, stop reading right now and don't go and watch the film. There is a big chance you will not like it and then slate it which is not fair on you or the people who are fans.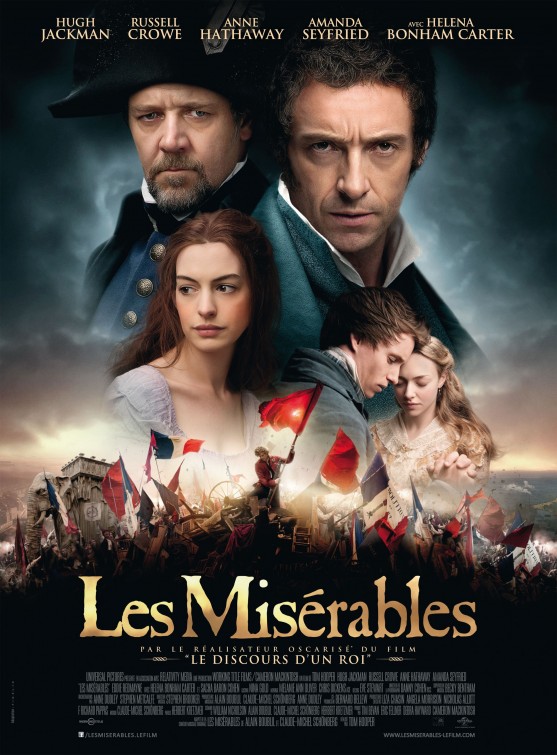 At a run time of 157 minutes, Tom Hooper's (of The King Speech and The Damned United fame among others) screen adaptation of Alain Boublil and Claude-Michel Schönberg's stage version is no small film. It is a narrative on a grand, sweeping and ambitious scale that while not perfect doesn't disappoint either. Like I've said, I've not seen the stage version so my views on the film have been solely derived from the film devoid of any comparison.
In 19th century France, Jean Valjean is a convict for stealing a loaf of bread to save his sister's son. Nearly 20 years later, he is released on life parole which he breaks to start a new, better life. Thus begins a long chase between him and the former policeman and now Inspector Javert who has vowed to recapture him. Valjean's former employee Fantine has had to turn to prostitution to save her young daughter Cosette and dies of tuberculosis without seeing her. Valjean makes a promise at her bedside to look after Cosette.  Spanning decades, all the main characters find themselves in Paris against the backdrop of the 1832 June rebellion against the French monarchy led by Erjorlas and a band of his fellow students including Marius, a noble who strongly believes in the cause.
Hugh Jackman for me has delivered one of the finest performances of his career. A trained stage and musical veteran, he isn't note perfect and seems to struggle during some bits of some songs, but his Jean Valjean is a character you won't easily forget and there are many memorable, shining moments along his journey to redemption. Fellow Aussie, Russell Crowe as Javert doesn't really possess the pipes required for this kind of role but is far from being as terrible as he is made out to be in much of the press. He may not have the trained voice, but he brings out an unexpected vulnerability to the character bent on vengeance with the belief that a criminal always remains a criminal. So much so that even when he is being ruthless, a part of us sympathises with him. Towards the second half of the film however the focus on this core relationship between him and Valjean is shifted and it's a shame.
Eddie Redmayne plays Marius and his pure tenor is a pleasant surprise, while his love Cosette (Amanda Seyfried) has a high pure Disney princess sort of voice that is a good complement, though Samantha Barks (reprising her role of Aponine from many stage performances) overshadows her in terms of character likeability and singing. Gavroche (Daniel Huttlestone) and the passionate Enjorlas (Aaron Tveit) are two other significant characters in the final act of the film with Isabelle Allen putting in a lovely turn as the young girl Cosette. However it is Anne Hathaway's Fantine who steals the show in a heart-wrenching cameo that features the much praised and talked about rendition of I Dreamed A Dream.
Much has been made about shooting the musical numbers live on camera instead of miming and recording the bits in a studio later on. The actors listened to a pianist via earpieces and the background soundtrack was added later. For large parts it works. Most of the actors are competent singers with impressive emotive abilities and the few weak links do not dampen much the overall passion and spirit of Victor Hugo's sprawling tale of oppression, redemption, pain, conflict and hope. The performances aren't the polished, trained, assured ones you come to expect from stage veterans, but that's a good thing. This is a very different medium and these changes, especially the raw, real feel of the live performances, definitely help the transition to screen. What I would have liked however is a bit more dialogue, not just the 'speak-sing' kind employed many times in this film. These are all fine actors, and more interpersonal communication between them (especially in the crux relationship between Valjean and Javert) apart from the medium of song would have made it a bit more resonant in my opinion.
This brings me to the style of shooting – single frames with the cameras focused only on the face of the actor singing the song. This is a great technique for the shots that require our intense concentration and involvement with the performer, and allow the actors to showcase some impressive expressive abilities, but repeated use makes the overall effect less powerful than it should be. Many times, the frame feels restricted and we rarely get to see any important interaction on screen between the actors for more than a fleeting instant. A good example of this is the blink and you miss it love at first sight between Cosette and Marius, a relationship that needs a lot more depth that just isn't evident on screen. Same can be said for the constant emotional intensity which overwhelms you right from the first shot of an emaciated Hugh Jackman with his fellow prisoners. Becauset's a constant barrage without any calibrations along the way, it can be hard to stay as involved.
I'm still making my way through the book, but from what I've read so far, there is a lot more social, economic and political commentary as a backdrop but also an essential element interwoven with the journey of all the characters. A musical however is supposed to be a different sort of interpretation that is more about the audience's emotional response, relatability and hence relies on universal emotions, characters, broad strokes and of course the musical score. What we get with this adaptation is a bit of a fragmented narrative but the fragments in themselves are beautifully done with some lovely tunes (Can You Hear The People Sing?, Stars, On My Own etc are passionately rendered). At the end of the day, Les Miserables is an unashamedly melodramatic experience that leaves you physically, mentally and emotional drained by the time the closing credits roll in. Enjoy it as such, revel in every magical moment however heartbreaking or painful and let Victor Hugo's classic sweep you away, move you and affect you even though you might have no knowledge of or interest in that period in history or any connection to the novel.
To love someone is to touch God.
Check out this trailer if you're not convinced.