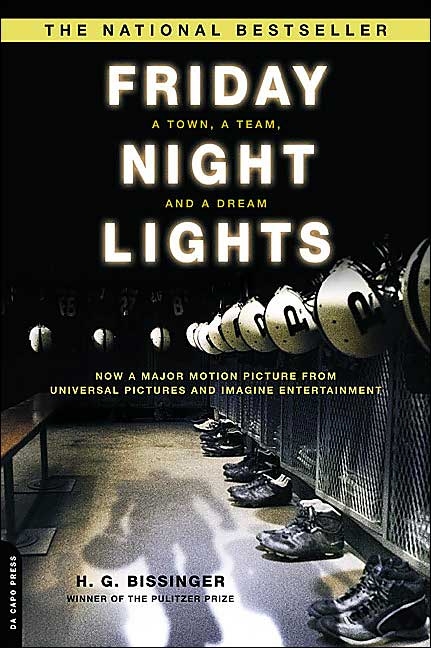 Friday Night Lights – H.G. Bissinger
Flashback Friday (see what I did there? :D)
Originally published on Write Club.
It is no secret that the Friday Night Lights TV series is one of my absolute favourites, if not the most favourite. And now the book that inspired it, goes down, without a doubt, as one of the best sports books I've ever read, one that Sports Illustrated (2002) named as the fourth-greatest sports book ever written
Back in 1988, the Pulitzer-Prize winning H.G. "Buzz" Bissinger moved his wife and two little girls to Odessa, Texas, pursuing a story he suddenly realised that he had always wanted to tell. The Permian Panthers from Odessa had a fine record of producing consistently successful high school football teams who won or at least competed for State championships (winning them in 1965, 1972, 1980 and 1984), and Bissinger wanted a chance to experience all the madness first-hand. He wanted to immerse himself in the place, interact with the players, their families, the coaches, the locals, and try his hand at capturing the fragmented nature of the town's identity and football's impact on the self-worth of the locals.
"Life really wouldn't be worth livin' if you didn't have a high school football team to support." (Friday Night Lights, pg. 20)
But with Bissinger's considerable story telling abilities, the end product is far from being just about football. The games form the medium through which the story of Odessa is told and he does a good job of explaining why football is the axis that the town revolves around. However the journalist in him also ensures that the book explores everything that goes into making of the town, the history of the oil surge and eventual decline, the unavoidable racism, the complicated nature of politics, identity, heritage and pride. We are thus presented with a full account, a snapshot of the place and the people as they were at a specific point in time. It's our own slice of Texas, frozen in space and time but never failing to affect us with its complexity and heart inspite of all the obvious flaws. Bissinger is a skillful writer who breathes delicate life into this recreation of that one season back in 1988, with the descriptions of the football games (eventually spread out throughout the book) being some of the finest I've ever read in a sporting context.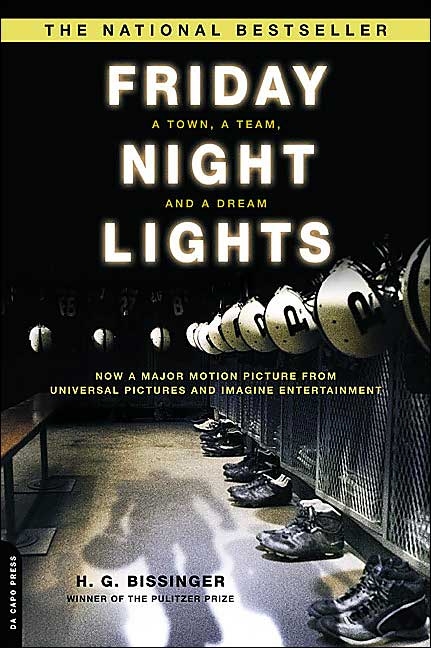 Friday Night Lights focuses on the lives and histories of five key players from that Permian Panthers side—tailback Don Billingsley, quarterback Mike Winchell, fullback Boobie Miles, lineback Ivory Christian and tight end Brian Chavez. He introduces us to each character in the present as he saw them and got to know them (their hopes, dreams, struggles, positives, negatives, upbringing and background) but also provides a rooted context that goes far beyond them and their family history to its place in the overall story of Odessa's flow and ebb in fortunes.
He describes Odessa as a "place still rooted in the sweet nostalgia of the fifties – unsophisticated, basic, raw—a place where anybody could be somebody, a place still clinging to all the tenets of the American dream, however wobbly they had become." We encounter a town that centers the very core of their heritage on high school football, on the success of their team. But more often than not, far from giving a group of young men a chance to prove their athleticism and teamwork, it also involves crushing pressure and expectations of each and every member of the town so that many players (like Ivory Christian) equally hate and love the game and what it does to the town. Education is neglected, blatantly sidelined in favour of furthering the "Permian cause", corners are cut, mistakes and behaviour overlooked as long as they are important to Permian football. Racism is rampant, as is the casual use of the dreaded N-word, with black players openly acknowledged to be only good enough to play football and easily replaceable (only too evident in the case of Boobie Miles with Chris Comer after the former's eventually career-ending injury at the start of what was supposed to be his best and final season as a senior).
As mentioned previously, the writer has managed to capture the basic essence of Permian Panther football in all its glory and darkness over the course of that season where the team made the play-offs (I won't disclose the rest for uninitiated readers) Just like with the TV series, the book doesn't require a knowledge of the game itself. You may not know what a touchdown is, what a Hail Mary Pass looks like or what a scrimmage actually entails, but that doesn't stop you from getting caught up in the nervous excitement, the heightened anticipation that precedes every Friday night, the visceral rivalries, the infectious spirit of a town relying on the success of a group of high school boys to live (or in the case of former players, re-live) vicariously though moments that form a deep part of their collective consciousness.
Bissinger has an innate gift of recreating on paper the magic, the soaring highs, the gut-wrenching lows and the constant tension that make up a football game. With wonderful detail and observations, he brings to life every game of the 1988 season and we join the rollercoaster ride with him and 60,000 Panther fans, never to be the same again. It is also made amply clear that Odessa isn't an isolated case when it comes to the insane amount of dependence on high school football. And hence we get a glimpse into a crucial part of the American life. As Bissinger points out,
"There was a heartbeat in those stands that dotted the Friday nights of Texas and Oklahoma and Ohio and Pennsylvania and Florida and all of America like a galaxy of stars, a giant lurking heartbeat." (Friday Night Lights, pg. 193)
As readers we become part of this heartbeat. We feel for the tremendous amount of hard work, efforts and sacrifices made by all the players for so long on something that is so fleeting. Something that will treat you like an outsider as soon as that brief moment in the spotlight is over, transferring all hopes, dreams and expectations on a new batch of youngsters ever-ready and waiting to take your place. It is sad that for most, being a high school football star is as good as it will ever get.
"This is the last minute of your life." (Friday Night Lights, pg. 326)
Bissinger doesn't shy away from this harsh reality of the ephemeral, transitory nature of the Permian Panthers. Happy endings are too far and few in between but the gritty reality has its own charms, its own dark attractions. There are many controversial topics discussed and insights recorded within the pages of the book that may not have endeared him to the residents of the town, but to his credit, he does a fine job of capturing the elusive allure and magic of the Friday Night Lights. Pick up this book and you won't regret it.
PS: Later an original 45 page story was released called After Friday Night Lights which chronicles a most odd enduring friendship between Bissinger (a "neurotic Jew" in his own words) and Boobie Miles (a West Texas oil-field worker and former Permian Panther). It follows Miles through some of the darkest years of his life following that fateful knee injury up to a more recent and hopeful present. For Bissinger, Miles might be "a symbol of everything that was wrong with high school football," but "our friendship is the most lasting legacy of Friday Night Lights, or at least the legacy I care about most".