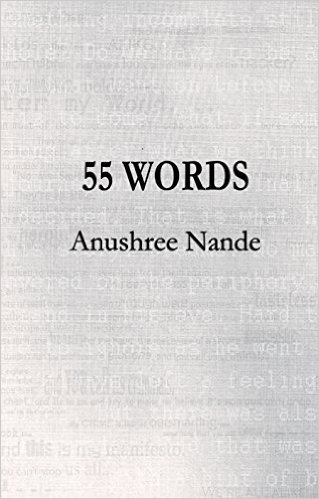 Despite a fairly slow start to the year (writing-wise), I've been blessed  to end 2015 with a decent amount of work to my name and much in the pipeline – a combination of short stories, flash, art, three line poetry, essays, football pieces and my first-ever micro-fiction collection in 55 Words (published by LA-based Underground Voices as part of their E-series).
Magic Water – my last story of 2015 – will go online at Flash Fiction Magazine on December 18 at 9 AM Pacific Time. Until then, here's a list of the others 🙂
55 Words (Underground Voices – http://www.undergroundvoices.com/) 
A collection of 46 stories, each exactly 55 words.
Short stories
Glitter Glass (Flash Fiction Magazine) – http://flashfictionmagazine.com/blog/2015/07/28/glitter-glass/
Run (Words Apart Magazine) – http://www.wordsapartmag.com/run-by-anushree-nande/
Chocolate milk with a pinch of salt (Foliate Oak Magazine) – http://www.foliateoak.com/anushree-nande.html
White (Story Shack) – http://thestoryshack.com/drama-stories/anushree-nande-white/
The Amazing Angee (Yellow Chair Review) – http://www.yellowchairreview.com/#!issue-2/c166b
Sirens of Summer (Fragments of Chiaroscuro) – http://issuu.com/fragmentsofchiaroscuro/docs/fragments01_v12?e=18742526%2F30380532#search
Poetry
Three Line Thursday – Year 2, Week 5 – http://www.threelinethursday.com/results-year-two-week-five/
A very pleasant surprise to be awarded third place during the Halloween special prompt.
Essays/Memoir
Mumbai to Ormskirk (When Women Waken) – http://www.whenwomenwaken.org/mumbai-to-ormskirk-by-anushree-nande/
Identity, Music and Being A Writer (Litro Online) – http://www.litro.co.uk/2015/07/identity-music-and-being-a-writer/
Loyal Sceptics (Litro Online) – http://www.litro.co.uk/2015/05/loyal-sceptics/
Art
The Joker (Superhero issue – Yellow Chair Review) – http://www.yellowchairreview.com/#!super-heroes-issue/c1zny
Football
Invincible: Inside Arsenal's unbeaten 2003-2004 season – Amy Lawrence (A book review) – http://www.footballparadise.com/inside-the-invincibles/
Curse of the Injuries: Jack Wilshere and Alexandre Pato – http://www.footballparadise.com/curse-of-the-injuries-jack-wilshere-and-alexandre-pato/
The Morning After The Night Before – http://www.footballparadise.org/blog/the-morning-after-the-night-before/
Victoria Concordia Crescit (co-written with Joe Tilley) – http://www.footballparadise.org/blog/victoria-concordia-crescit/
Fathers of Football – Keith Baker (A book review) – http://footballpink.net/2015/05/12/book-review-fathers-of-football-great-britons-who-took-the-game-to-the-world-by-keith-baker/
Geordie Armstrong on the Wing – Dave Seager (A book review) – http://www.footballparadise.org/blog/geordie-armstrong-on-the-wing-dave-seager-a-book-review/
Being part of the Arsenal family: Reflections on the family I chose – http://www.gunnerstown.com/arsenal/2015/07/10/being-part-of-the-arsenal-family-reflections-on-the-family-i-chose/
Simultation and disrespect are rife in football: Why so and what are the solutions? – http://www.gunnerstown.com/arsenal/2015/08/21/simulation-and-disrespect-are-rife-in-football-why-so-and-what-are-the-solutions/
Thanks and happy reading! I always welcome feedback 🙂